The Apollo discus cage can remain erected all season. That means throwers can train 24/7. Most cages have low wind ratings and spend most of their life in an unusable condition because the net is lowered. When you buy a Play Hard Sports cage the nets can remain erected in most wind conditions.
Advantages:
Net can remain erected in winds up to 62mph (100kph).
Reduced number of support poles – for better vision and reduced risk of implement damage.
Athletes can train all season in a fully erected cage.
Check out our Apollo Installation Video!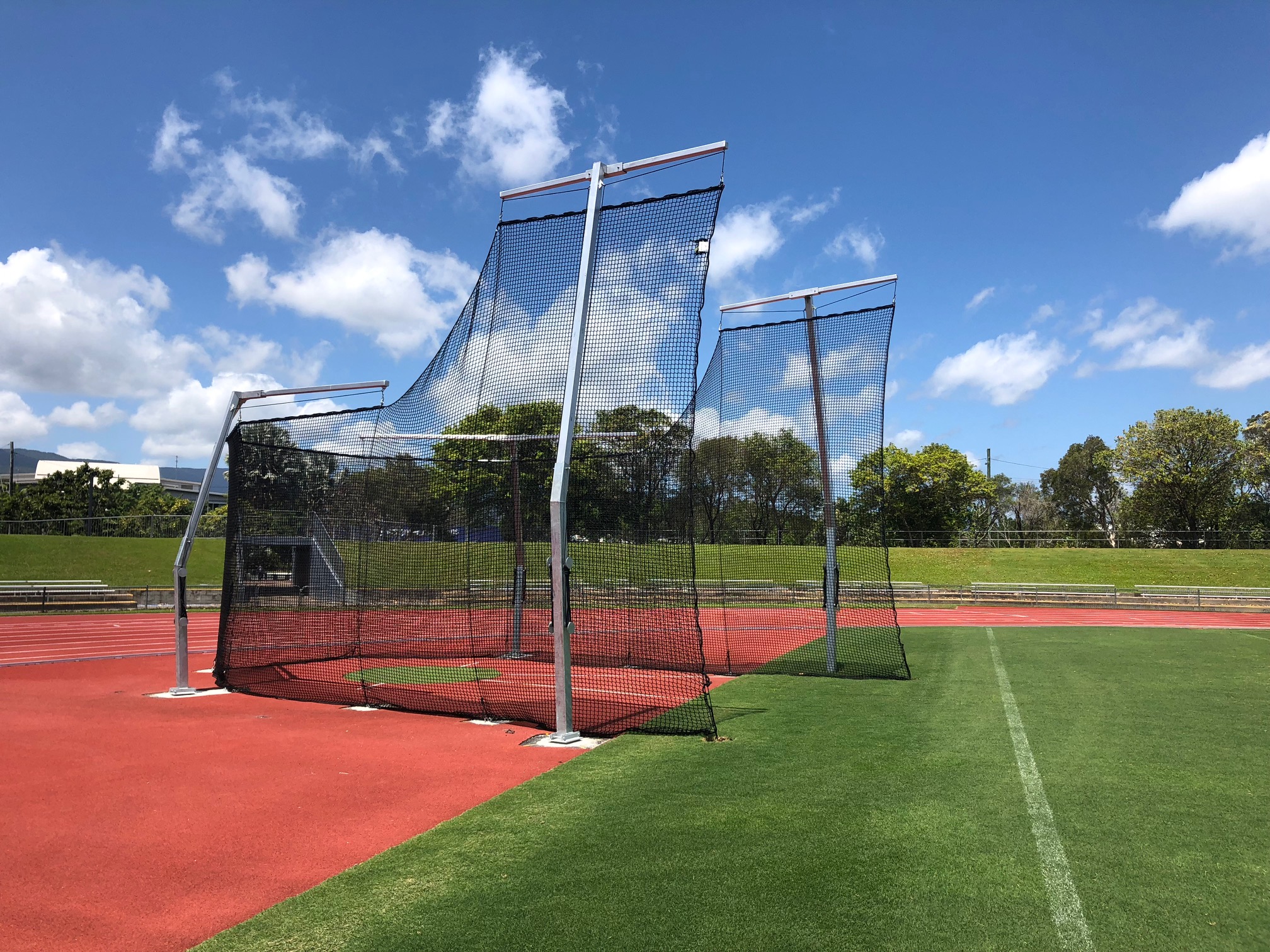 Apollo Discus Cage Description
Size
6 metre high at the gate and 4 metre high perimeter net - great for beginner athletes as it improves the safety zone for throwing.
Gate distance
7.0m from circle centre.
Gate edge
Rope and resin composite tube.
No. of poles
4
Pole hardware
Rope disc cleats and pulley wheel.
Pole material
Combination of steel, aluminium and fibre composites.
Ground work
4 sleeves and removable hinged base plates, 10 rope anchors
Finish
Choice of 12 colours (two pac gloss paint finish).
Net
44mm square mesh, 2.5mm woven poly cord with 160kg breaking strain, black (green optional), UV stable, World Athletics certified.
Net support
10 hanging points at 6.0m high.
Ropes
8mm black woven polypropolyne.
Wind rating
Net can remain erected up to 100 km/h.
Assembly method
Poles are assempled on the ground and raised by hand.
Manpower
2
Assemply time
4 hours
Assembly equipment
Spanners M20 (3/4") & M12 (1/2'), knife, pliers.
Warranty
5-year on hard structure and netting to World Athletics compliance
Compliance standard
World Athletics certified.
E-12-0695
United States (of America) Patent and Trademark Office (USPTO)
Patent #9,889,366 B2