Athletics the brand.
In my experience with athletics around the world, I see one of the largest issues with our stagnation is the fact that the sport has allowed individuals to be bigger than the sport itself. Although at the time it may have been understood that those athletes were the "saviours" of athletics, in my opinion, it did more damage to the "brand" of athletics than it did to improve it.
The fact that a group of individuals has more marketing appeal than an entire sport leaves us with a difficult situation. What happens when those athletes stop?
Instead of helping the community of athletics grow, where the people and the characters all compete in an environment where they are visible, treated as equal, and invested in equally,
individuals are driven by agents and management groups to globalised "success" at all costs. The circle goes around and around, and the sport of athletics itself always finishes second. We are left with the "damage" of temporary solutions and the pressure of this environment has shown to encourage shortcuts.
How would it be if we were to find ourselves in a situation where the sport of athletics grew together for the benefits of all its stakeholders. The kids who are connecting and wanting to start at their local clubs, the promising juniors of tomorrow and the nourishment of an ever-growing global effort to lift the brand of athletics. Where an athlete can seize an opportunity to contribute in more ways than "just" a performance and a million dollar deal with "insert global sporting company"
What are we doing differently than other sports? Where are they succeeding and where are we failing? How can we move with the consumer and research what our target audience wants? How can we grow the brand of athletics so it becomes sustainable as athletes flow in and out?
How do we engage everyone?
We do not see things how they are, we see things how we are.
One of the things I am so incredibly grateful for in my own career is the countless hours of lessons I have received from my coaches. Where the vast majority work voluntarily.
I have been able to learn something from every single person that has come into my life. For the better or worse. I have been able to thrive off their giving and learn some of the finest lessons that not only apply to sport but in life. Every piece of their "education curriculum" is reflected in my philosophies on a daily basis.
There has not been a single coach I have personally worked with that gave me the feeling they were doing what they were doing for their own personal gain. So why were they doing it? And why do they continue to do it? I believe they were doing it for a reason that is bigger than themselves. They were doing it for the sports sake and how does the sport thank them? Who sees what they are doing? Who appreciates what they do to uphold its integrity? How can they continue to be motivated when they see how "the sport" is right now?
Who has the answers?
More importantly, are we asking the right questions?
Along with my own sporting journey, I have encountered some polarising individuals. Athletes who took risks to think about things in new ways.
If we scratch the surface just a little bit we will see that there are some extremely intelligent characters within athletics. These people may or may not be champions, but they are creators. Artists. Multi-talented extroverts. Deep thinking and quietly spoken introverts.
"So What?" I ask myself.
"Aren't we are here to compete for medals in a sport"
My question is how do we find a platform for our sport to entertain an audience? With more frequency and visibility than once every four years?
How do we engage a new audience, generate new participants, and grow the brand of athletics by working together?
Can we capitalise on our wonderfully diverse group of sportspeople by engaging them to help shape a modern athletics package for a well-researched target audience?
I believe we can and I believe it's necessary.
Benn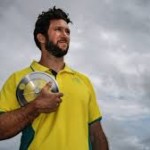 About the author Benn Harradine:
Benn Harradine is an Australian discus throw athlete competing at this year's Gold Coast Commonwealth Games. Benn has also competed at the 2008 Summer Olympics in Beijing and the 2012 Summer Olympics in London.
Benn made the final of the discus at the 2006 Commonwealth Games in Melbourne where he finished eighth. He went on to win the 2010 Commonwealth title. His 5th place finish at the 2011 World Championships is the best ever finish by an Australian man in the event.
Benn has broken the Australian record three times, his current personal best is 68.20 metres thrown in Townsville in May 2013.
Benn is a proud indigenous athlete from the Wotjobaluk tribe in the Wimmera district of Victoria. He cites land rights activist Vincent Lingiari as one of the people he admires. He is recognized in the Australian Olympic Committee list of Australian Indigenous Olympians.